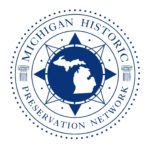 November 14, 2020, 7-9 PM
Thank You to Our Sponsors
Members and friends of the MHPN have gathered for over 25 years to spend an enjoyable fall evening at a significant historic venue and to raise funds for the organization.  Every year, we find ourselves in stunning buildings and landscapes located throughout the state, including the Charles Lang Freer House in Detroit, the Matthaei Botanical Gardens at the University of Michigan in Ann Arbor, Tibbits Opera House in Coldwater and Pontiac's Little Art Theatre in Pontiac.
This year looks different. Yet, we are excited to continue highlighting unique and important destinations that make our communities and state the places we love.
Tonight, we offer several experiences for you.  The Fall Benefit webpage serves as your home base, allowing you to navigate between the night's activities.  Click into the Zoom webinar to watch the four tours (see agenda below).  Keep the tours going on in the background while you enjoy all the other activities! Test your knowledge at trivia.  Visit our vendor showcase. And don't forget to check your bids in the silent auction often! (And please note that we'll have all the tours up on the MHPN's website soon.)
Enjoy your evening, and thank you for your support of the Michigan Historic Preservation Network!
7-8:50 pm – Trivia Open
7-8:50 pm – Silent Auction Open
7-8:50 pm – Vendor Showcase Open
7:15-8:50 pm – Tours on Zoom including:
7:15-7:30 pm – Sanilac Petroglyphs, Sanilac County
7:35-8:00 pm – The Legacy Building, Bay City
8:05-8:20 pm – Vermillion Life-Saving Station, Paradise (Upper Peninsula)
8:25-8:50 pm – Grand Haven Main Street, Grand Haven
Sanilac Petroglyphs, Sanilac County (7:15 – 7:30)
Sanilac Petroglyphs Historic State Park protects and interprets Michigan's largest known collection of early Native American teachings carved in stone. This NRHP-listed site and the surrounding 240-acre park is co-managed by the Department of Natural Resources and the Saginaw Chippewa Indian Tribe – the first partnership of this kind in our state.  For the tour, join Shannon Martin, Director of the Ziibiwing Center of Anishinabe Culture & Lifeways, and Stacy Tchorzynski, Senior Archaeologist with the Michigan State Historic Preservation Office, Michigan Economic Development Corporation.  These partners will lead you on a virtual experience that includes a look into this October's bundle offering event to honor the Memegwesi (Little People) who look after this important landscape and its visitors.
The Legacy Building, Bay City (7:35 – 8:00)
The award-winning Legacy Building, formerly known as The Crapo Building, experienced a façade-changing rehabilitation thanks to local developer Jenifer Acosta.  With an all-star team, including Quinn Evans, IMEG, and the Spence Brothers, this Romanesque building found new life as apartments and commercial space.  Join developer Jenifer Acosta and Quinn Evans associate Angela Wyrembelski as they show off this project. 
Vermilion Point Life-Saving Station, Paradise (8:05 – 8:20)
Life-saving stations, like lighthouses, provided a sense of security to those sailing the Great Lakes in the 19th and 20th centuries. The 1876 Vermilion Point Life-Saving Station on the remote shores of Lake Superior served these sailors well into the 1940s. This building is the only station remaining constructed in the "Lake Superior Type" style. Join Bruce Lynn of the Great Lakes Shipwreck Museum as he tours the station providing a history of the building and its inhabitants and describes the work of those currently restoring this important historic site.
Grand Haven Main Street (8:25-8:50)
Located on the shores of Lake Michigan with a picturesque lighthouse, Grand Haven serves as a popular beach destination.  Did you know this community also boasts a historic downtown, part of Michigan's Main Street program, just a stone's throw from the lake? Join us as Jeremy Swiftney, Executive Director of the Grand Haven Main Street DDA, guides us on a tour to see this traditional downtown and the beautiful buildings that make this a national destination.
7:00-8:50 pm. Complete all four categories, with a winner selected from completed submissions at 7:40, 8:00, 8:30, and 8:50.
For trivia lovers everywhere – please enjoy the MHPN's first ever trivia contest.
You'll be working through 4 categories of questions on your way to trivia success!  You must finish each section before moving to the next, but they can be played in any order. You may also pause the entire contest to participate in other programming during the Fall Benefit.
Your score will be submitted when you complete ALL 4 categories. 
There will be 4 winners tonight, selected from completed submissions at 7:40 pm, 8:00 pm. 8:30 pm, and 8:50 pm. Each winner will receive a $50 gift card! 
Test your knowledge about Historic Preservation and Michigan and win a prize tonight!
Silent Auction
&
Donate to Our Field Services Program
We have a tempting silent auction. Bid on choice Michigan weekend getaways and dining out; books, posters, and photographs; home décor and jewelry; and other fun stuff and activities. Many of them have preservation connections. Also make gifts in support of the MHPN's field work, starting at $50 and going up to $5,000. The auction closes promptly at 8:50 PM, and each winner is alerted via email. With the volume of winning bids to be announced, you may be alerted after 9:00 PM. You need not stay on-line to win. Your items will then be mailed to you within 7-10 working days.

Because all our auction items are donated by our friends and partners, every dollar you bid is a much-appreciated gift in support of the MHPN's work. Similarly, we really appreciate your donations this evening to support MHPN's field services!
Thank you for your support of MHPN's field services this evening!
The Michigan Historic Preservation Network (MHPN) has a long and successful record of working with communities throughout the state, supporting their efforts in historic preservation and how it can improve the quality of life for residents.
MHPN's field services include responding to hundreds of inquires and requests, participating in and facilitating community meetings, conducting educational sessions, and providing expert public testimony.  Many of these services create long-lasting preservation partners in communities who continually engage in local, state, and national preservation work. 
This year, our staff worked tirelessly to continue to provide these services virtually in the face of a global pandemic to ensure preservation information reached those who needed it.  We hosted thirteen webinars between April and October, partnered with communities on four virtual presentations and two virtual demonstrations, transitioned our conference to a virtual platform, and continued to offer our revolving loan programs to help fund projects, amongst many other projects.  Keep an eye on our workshop page to see our upcoming webinars, please click here!
And while most work has been virtual, we have been able to be in the field while following social distancing guidelines. This year, we partnered with the Detroit Land Bank Authority to undertake the rehabilitation of five historic homes in the Russell Woods – Sullivan Historic District. Plans have been developed and approved for three of the homes and physical work is set to begin in the new year on all five.
Your donations to our field services this evening help fund the staff members who attend local meetings and engage in local issues, like the Michigan State Fairground in Detroit or Evart's first Historic District Commissioner training.  It also funds our advocacy efforts to reinstate the Michigan State Historic Preservation Tax Credit, including numerous one-on-one meetings with senators and representatives discussing how this tax credit helps businesses and communities of all sizes and strengthens our economy.
As a membership driven organization, we appreciate all who join our efforts by becoming a member, attending our fall benefit, calling their local legislators, and promoting our programs.  Together, we create a better present by ensuring the places that tell the stories of our past live long into the future.
Our committee and volunteers worked diligently to create this evening for you all.  We cannot thank them enough for the time they dedicate to this annual fundraising event.
Jenifer Acosta, Jenifer Acosta Development
Devan Anderson, MHPN Board Member – Trivia Contributor
Andy Atkins, 730 Eddy Studios
Bethany Berdes, Auction Coordinator
Dawson Bishop, Lambert & Co.
Janet Kreger, MHPN Board Member – Fundraising Coordinator
Bruce Lynn, Great Lakes Shipwreck Museum
Shannon Martin, Director of the Ziibiwing Center of Anishinabe Culture & Lifeway
Denise McGeen, MHPN President – Promotions Coordinator
Elaine Robinson, MHPN Board Member – Trivia Coordinator
Jeremy Swiftney, Grand Haven Main Street DDA
Stacy Tchorzynski, Michigan State Historic Preservation Office
Angela Wyrembelski, Quinn Evans