Join us in celebrating 100 years in Indian Village
While recognizing the Michigan Historic Preservation Network's 40 years of service to preservation projects around the state and supporting its future work.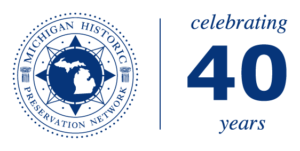 Sunday, June 6th, 2021
2:00 PM- 6:00 PM
3495 Burns St, Detroit, MI 48214
Privately Hosted by:
Annie Rubel
Current steward of 3495 Burns
Director of Preservation & Operations, Fair Lane: Home of Clara and Henry Ford
Michigan Historic Preservation Network Board of Directors
Snacks and sweets by Rose's Fine Foods. Wine, beer, and non-alcoholic beverages.
In case of bad weather, the House Party's hours will be extended to 8:00 PM.
Your RSVP is required by May 15th so that the overall guest count can be capped at 125.
Please click HERE to RSVP and, if interested, sign up for a limited capacity tour time-slot. Each tour will include no more than 12 guests.
There are no tickets to purchase, but recommended donations of $20, $50, and $100, and the purchase of MHPN memberships, are appreciated in support of the organization. Cash, checks, and charge cards welcome. The MHPN is a 501(c)(3) organization.
About the house:
Built in 1921, this brick Colonial Revival has seen its fair share of transformation over its 100 years. Originally designed by Harry S. Angell for Henry W. Cameron, the home at 3495 Burns had fallen into disrepair by the time a young historic preservationist bought the property in 2015. A single light fixture hung in the house, the basement was visible through a missing floor in the kitchen, endless plaster needed repair, and there wasn't a surface that didn't need attention. After six years of rehabilitation, the home is now ready for visitors and guests. Please join us!
About the MHPN:
The Michigan Historic Preservation Network is Michigan's statewide non-profit membership organization and the advocacy and resource group for preservationists from all backgrounds. Founded in 1981, the MHPN advocates for Michigan's historic places because they contribute to our economic vitality, sense of place, and connection to the past. For information about MHPN, please visit our website at: www.mhpn.org.
COVID-19 Precautions:
This event will be hosted outside in the home's lovely backyard.
Both the total guest count and size of the tour groups will be limited.
Masks will be required at all times while indoors and outdoors if social distancing is not possible.
The garden will have a variety of seating and table options for safe distancing and accommodation.
Food and beverages will be served by staff and volunteers so there will be no cross-contamination.
Attire:
Garden Party Casual
No heels, please.
Accessibility:
Due to its historic nature, the home is not barrier-free. To reach the first floor, there are four steps up onto each porch. The home is on four levels, including a basement, with some narrow stairwells. The outdoor portion of the event is barrier-free and we will have a variety of seating options. There is a large stone patio as well as a lawn area.
Parking:
Guests may park on the street for free and without a permit.
Questions or to RSVP by Phone or Email:
Contact the MHPN Lansing office at 517-371-8080 or info@mhpn.org.