2023 MHPN Annual Statewide Preservation Conference
"A FRAGILE BALANCE:
How Heritage Tourism Balances Profitability and Authenticity"
Conference runs May 11-13, 2023
Mackinac Island, Michigan
Both the conference and overnight accommodations at Mission Point Resort
Hotel Registration Now Open
CONFERENCE REGISTRATION NOW OPEN!
The 43rd Annual Statewide Preservation Conference is underwritten through the generous support of
Dear Friend of Historic Preservation:
The Michigan Historic Preservation Network is reaching out across the state in search of great items for the silent auction that is a highlight of our statewide preservation conference. This year, we're in Holly, MI from May 11-14 with the theme for this 42nd annual gathering being, "Our Town: Preserving Places Together." Whether you've provided an auction item in the past or would consider doing so for the first time, we welcome your contribution! If you have something in mind, please know that the deadline for items is Friday, April 29.
We seek donations of all types in all price ranges so that we offer something for everyone. Popular ideas include tours of historic places, overnight stays in historic hotels or B&B's, tickets for both high-brow and low-brow entertainment, books and prints, works of art and antiques, architectural artifacts, and gift certificates of all kinds. In addition to individual items, we're always looking for creative theme packages that you pull together or that we can create.
As an auction item donor, you'll receive recognition in the evening's program, on the item's bid sheet, and in the MHPN's annual report. Your donation may be tax deductible because the MHPN is a 501(c)3 organization. We've enclosed a donation form in case you'd like to help! The form provides details about the auction, but you should feel free to contact the MHPN office with any questions you have.
The MHPN is THE membership organization in Michigan dedicated to recognizing and preserving the state's architectural and cultural heritage. Your item, when auctioned, provides financial assistance for our statewide efforts. To learn more about our 2022 conference and catch up on what's new at the MHPN, visit us at www.mhpn.org.
Many thanks for your support of historic preservation in Michigan!
SARAH RICHARDS REYES and JAMIE SISTY
2022 Conference Auction Co-Chairs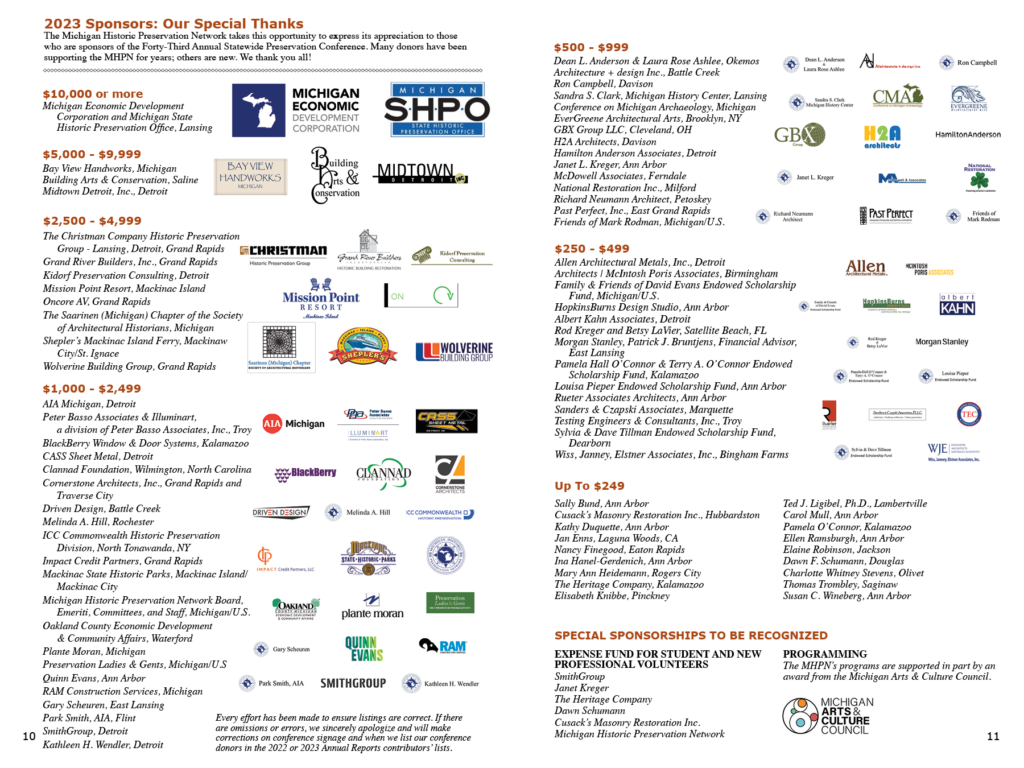 When giving online, choose Annual Conference as the "Designation" and,
when checking out, add your chosen Sponsorship Opportunity in the "Order Notes."
Before the conference, your business is recognized in our 10,000 brochures, on the MHPN website and Facebook page, in social media, and on the conference's landing page which everyone sees during on-line registration. Your business is recognized during the conference on signage and in power points, and when sponsors are thanked at the sessions and special events they support.
As benefits, your booth price is reduced at the Vendors' Showcase, and, because it's proven to be so popular, the Virtual Vendors' Showcase is available to you at no price. You'll be listed in the MHPN's Annual Report, you may have complimentary registrations, and you are hosted at a VIP gathering. But hands down, the greatest return on your investment is that the conference inspires and educates buyers for the services, products, and properties you offer. They take note that you support the MHPN.