28th Annual Fall Benefit
Durant-Dort Factory One 
Friday, October 7, 2022
6:00 PM – 9:45 PM
WE'RE SO GLAD YOU COULD JOIN US!
WHAT A GREAT EVENING WE HAD AT FACTORY ONE!
303 West Water Street, Flint, MI 48503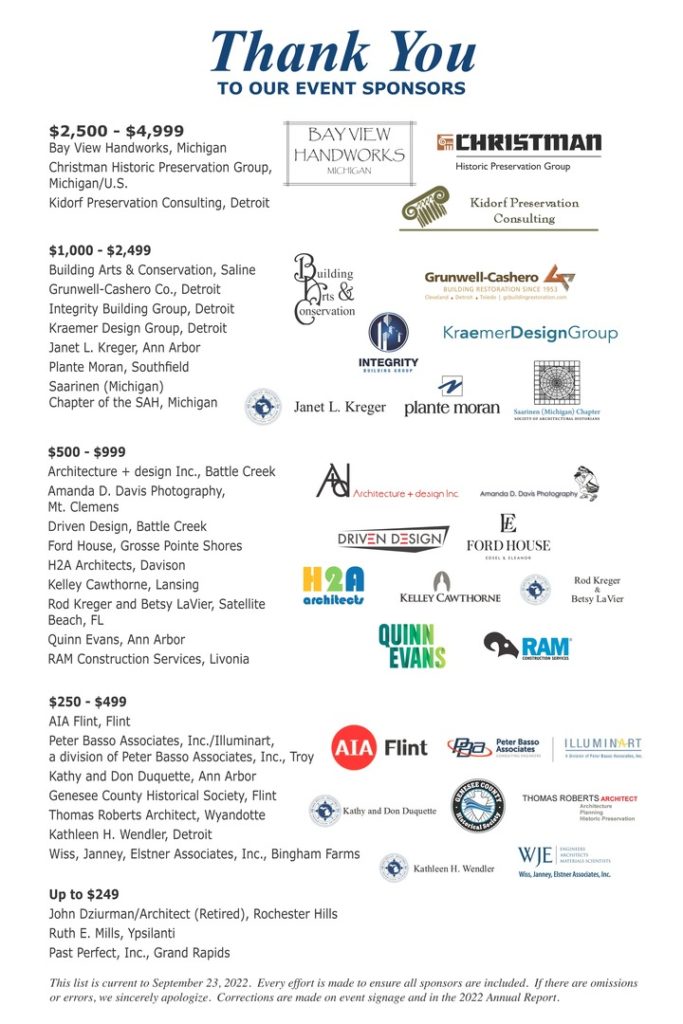 Some of Our Auction Items
The evening includes light dinner fare and beverages, complimentary wine and beer, live and silent auctions, awards, tours, and more!
$120 per person, $90 for government employees/officials and seniors (60+), $70 for students. A portion of your payment is a gift to the MHPN, a 501(c)3 organization.
Registered guests may join a 5:00 PM – 6:00 PM pre-event tour of the Durant-Dort Carriage Company Office, a National Historic Landmark located across the street from Factory One. Please note that the self-guided tour of the Kettering University Archives located inside Factory One that was to have been available between 5:00 PM – 6:30 PM is CANCELLED due to necessary construction taking place.

Factory One is a barrier-free facility throughout. The Carriage Company Office being toured is barrier-free on the first floor. Venue parking includes designated handicapped spots. 
Business informal dress is appropriate for the evening. 
We will follow CDC guidelines current in October.
Members and friends have gathered for over a quarter-century to spend an enjoyable fall evening at a significant historic venue and raise funds for the MHPN. Most often we are in wonderful Detroit buildings such as the Fisher or Masonic Temple. Other years, we leave the Detroit area to see venues such as the Grand Trunk Western Railroad Depot in Durand or Tibbits Opera House in Coldwater. Although we held the MHPN's 32nd Annual Statewide Preservation Conference in Flint in 2012, we have not hosted a Fall Benefit in the city. Now's the time!
Factory One embodies the stories of innovators who revolutionized personal transportation. Located just north of downtown Flint, the two-story, red brick factory dates from c.1880 when it was built by the Flint Woolen Mills Company for textile production. In 1886, William Crapo "Billy" Durant and business partner Josiah Dallas Dort leased the facility and formed the Flint Road Cart Company. Their enterprise became the Durant-Dort Carriage Factory, one of the largest carriage builders in the world.
Durant would eventually take control of another Flint business – Buick Motor Co. – and leverage his Durant-Dort resources to grow the new enterprise into one of the most successful automobile makers in the country. Durant used Buick's success to begin building General Motors in 1908. By 1917, carriage production had ended at Factory One. The building and others in the complex were converted to manufacturing automobiles until 1924.
During the more than 130 years since Durant and Dort set up shop at Factory One, it housed countless other businesses in what remained a residential neighborhood, today recognized on the National Register of Historic Places as the Carriage Town Historic District. In 2013, General Motors purchased Factory One and began a three-year restoration and renovation of the 30,184-square-foot building. SmithGroupJJR was selected for its extensive experience in preservation and modern archive design. A cornerstone of the global auto industry had thus been preserved while creating a modern meeting, archive, research, and exhibition space for GM and its community.
Dear Friend of Michigan Preservation:
It's our pleasure to invite you to sponsor the Michigan Historic Preservation Network's 28th Annual Fall Benefit. Perhaps you've supported our event before. Perhaps you're thinking about it for the first time. In either case, thank you for considering this request.
This year's Benefit is at the historic Durant-Dort Factory One in downtown Flint from 6-9:45 PM on Friday, October 7. The birthplace of General Motors in 1908, Factory One is where innovative visionaries William "Billy" Durant and Josiah Dort revolutionized their carriage company to put the world on wheels and the City of Flint on the map. GM's renovation of Factory One brings this story full circle. Before the Benefit, guests may tour the nearby Durant-Dort Carriage Company Office, a National Historic Landmark.
You'll receive recognition in our Benefit promotions, on the MHPN website and our other media platforms, in the evening's print program and on signage, and in our Annual Report. You may want to be part of our complimentary Virtual Vendors' Showcase that will run 24/7 from the time registration opens the first thing in August to when the event is over – we'll send you more information about that.
Supporting the Benefit is a good investment in the MHPN's promotion of preservation as a tool for post-pandemic economic revitalization. Addressing local preservation needs, growing our easement program and revolving fund, and serving as your legislative advocate are just a few of our efforts with an impact on you. Right now, of course, we're promoting Michigan's new preservation tax credit as well.
Please respond by Friday, September 16, 11:59 PM, for recognition in the evening's program and media outreach!
Sincerely,
JANET L. KREGER
2022 MHPN Fall Benefit Fundraising Coordinator
Direct your questions to Janet – EMAIL: kregerj1981@att.net / PHONE: 734-222-9310 / FAX: 734-222-9311
Contribute an item to our silent and live auctions. The deadline for receipt of donated items is Friday, September 30, 2022. 
For questions, please contact 
Bethany Berdes | 2022 Fall Benefit Auction Chair | Cell/Text: 517-292-9741 | E-mail: bberdes@yahoo.com 
Members and friends of the MHPN gather annually to spend an enjoyable Fall evening at a significant historic venue and to raise funds for the organization. Most often we are in stunning Detroit buildings such as the Fisher, Grand Army of the Republic, Guardian, Charles Lang Freer House on the WSU campus, or, Masonic Temple. Other years, we leave the Detroit area to see the Matthaei Botanical Garden at the University of Michigan, Durant Union Station in Durand, Tibbits Opera House in Coldwater, or the Pontiac Little Art Theater in Pontiac.
Food, both a silent and live auction, and a chance to network with preservationists from across the state make the event the place to be each fall.
The proceeds from the benefit and the auctions help to support the ongoing operations of our organization and help to facilitate preservation in Michigan.
Please join us!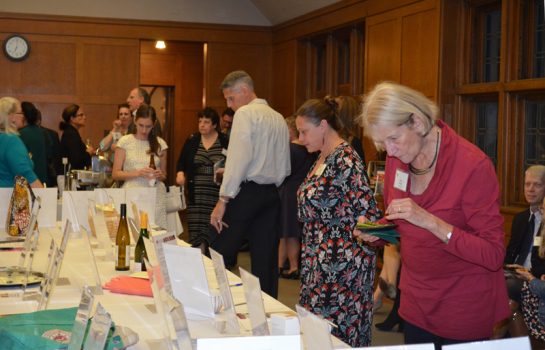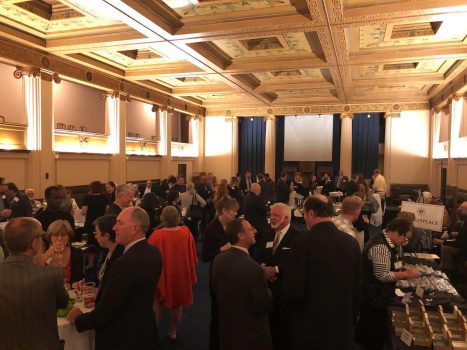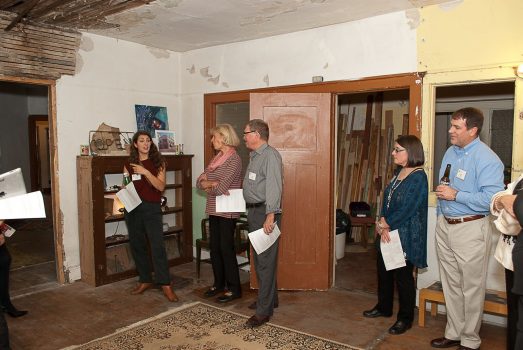 MHPN Fall Benefit History